Dit evenement is voorbij.
ACTNOW – The ImpactTech Summit for a better tomorrow!
ACTNOW gelooft in innovatie, talent en technologie. We brengen ondernemende mensen bijeen die impact willen maken. What's your legacy?
ACT NOW Impact Tech Summit 2023 is hét evenement waar technologie en positieve impact op de samenleving samenkomen. Ontdek en ervaar de kracht van innovatieve oplossingen die de wereld van morgen vormgeven en doe mee aan het creëren van een duurzame toekomst. Dit is je kans om te leren, te netwerken en samen met anderen een blijvende positieve impact te maken met technologie.
Leer alles over de implementatie van de nieuwste technologieën als onder andere AI, Internet of Things, ChatGPT, Blockchain, Serious Gaming, Web3, Robotica en Virtual/Augmented Reality.
Opening
9.30u Doors open Impact Tech Expo – indoor & outdoor (doorlopend programma tot 18.00u)
10.15u Officiële opening ACT NOW 2023
Key note programma
10.30u Jarno Duursma – Machines met verbeeldingskracht – Artificial Intelligence
11.30u Marcel Molenaar – The economic graph by LinkedIn
12.00u Rens van der Vorst – Techfilosofie: hoe worden we betere mensen in een wereld vol digitale technologie
13.30u Gidion Peters – de kracht van Decentralized Autonomous Organizations
14.00u Cecile Cremer – New essentialism | Future 2030 : drijfveren voor verandering
14.30u Janet Scheltinga – Gemeente Breda bouwt aan een nieuw Innovatiedistrict
15.30u Arjen Tjallema – welke technologieën zet The Ocean Cleanup in om de plastic soup te bestrijden
Beursvloer
Geniet van 25 exposanten die hun producten graag aan je presenteren op de interactieve expo- en beursvloer die de gehele dag is geopend.
Breakouts
11.30u AI for good
11.30u Scale up your company
13.30u Web3 & Blockchain
14.15u Zero waste challenge
15.00u Data gedreven werken
15.30u De impact van data-wetgeving en intellectueel eigendom op software en AI-innovatie
16.00u Blockchain en energie
Netwerk
16.30u Network Drinks
18.00u Einde ACT NOW 2023
Let's make impact together !
ACT NOW – Breda, The Netherlands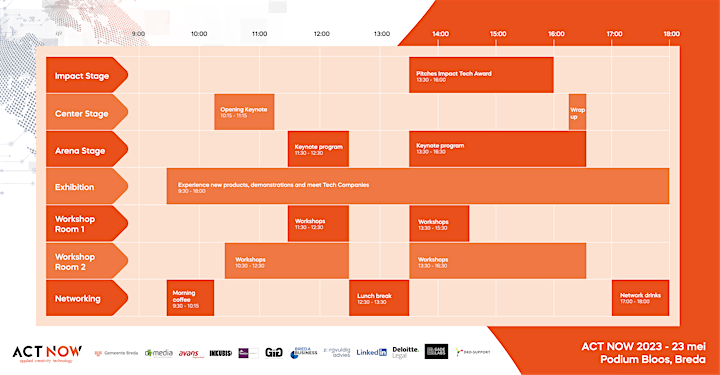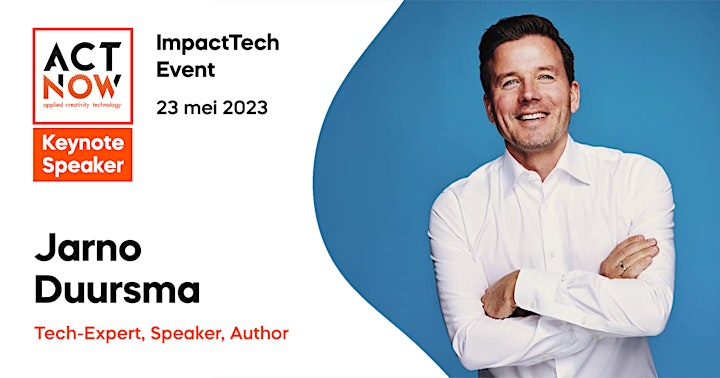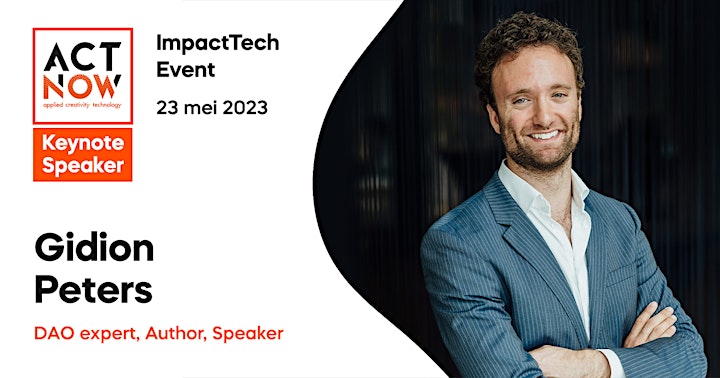 23 mei 09:30

-

18:00

Free